18 March 2023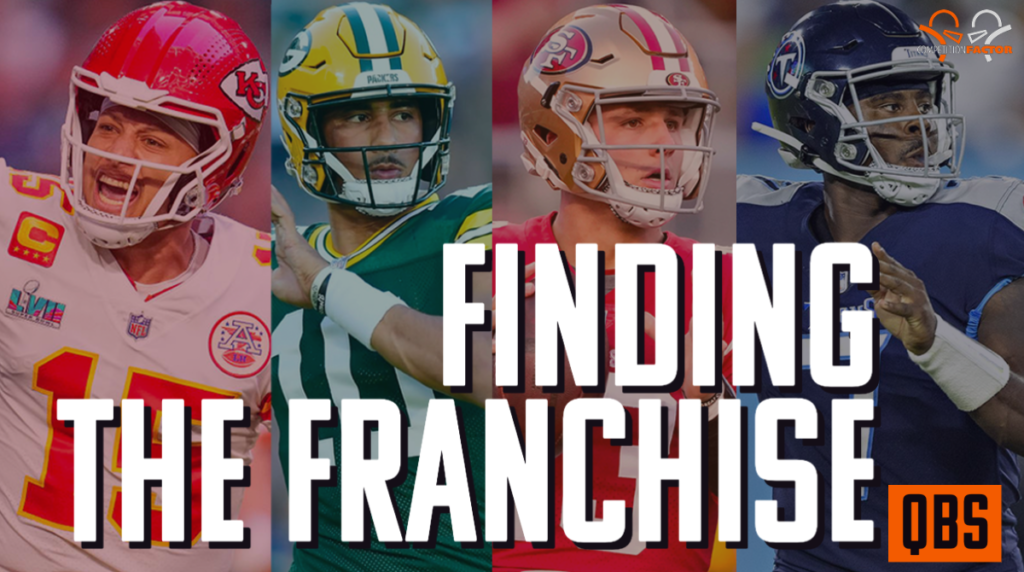 In a league with many competing thoughts there is one agreed upon imperative – a franchise QB. Without an elite QB, the chances of winning it all are virtually nonexistent. Teams confident in their signal caller are few. Most are jockeying to get the right guy to lead their team. Teams are desperate to find the next great QB. But year after year, teams struggle to identify and draft the college QBs with the most potential to perform on the NFL stage.
Teams so desperately want to see the same talent of a Patrick Mahomes, Joe Burrow, Josh Allen, or Jalen Hurts that they seem to overlook a QB's entire body of work. Great highlight film evokes dreams of superstar potential and Lombardi trophies. NFL teams are so enamored with size, speed, athleticism, and arm strength that they tend to minimize flaws, weaknesses, and/or college production challenges if a player exhibits the former qualities.
Our competition factor adjusted production metric has proven to be a very good predictor of NFL performance potential. NFL competition is much tougher than anything these QBs faced in college. That is why our metric evaluates players game-by-game. We evaluate their production relative to the strength of their opponent. Not the entire team, but the components that oppose the player. QBs are evaluated against the strength of the opposing pass defense. If those great highlights all come against college "cupcakes" they get devalued in our analytic. If they occur against the likes of Georgia and Alabama they are adjusted accordingly, based on the competition factor.
Surprisingly, our data many times differs from how the QBs are drafted. More times than not, we get it right. Brock Purdy, Mr. Irrelevant in the 2022 NFL Draft, was our second ranked QB. Kenny Pickett was #4 and Malik Willis was our 17th ranked QB (7th in our dual threat adjusted ranking). In 2021, like the Jaguars, we also had Trevor Lawrence as our top QB. Mac Jones at #3, Justin Fields at #5, and Zach Wilson as our 9th QB. In 2020 our top 4 QBs were Joe Burrow, Tua Tagovailoa, Jalen Hurts, and Justin Herbert. We had Jordan Love at #30.
What about finding the next Patrick Mahomes? Mahomes was our #2 QB behind Deshaun Watson in the 2017 NFL Draft. Both above Mitch Trubisky, who we ranked at 7. Our QB ratings for the 2023 NFL Draft are below. You will see that our metric, once again, differs from the many mock drafts out there. You can sort by any of the different categories that we evaluate QB production. Each is our competition factored rating.
QUARTERBACK RATINGS
PLAYER
TEAM
POS
YR
EFF
YPG
YPC
YPA
PCT
TDs
INTs
DUAL
OVR
1
Hendon Hooker
Tennessee
QB
2023
96.8
74.7
91.8
93.2
96.1
91.9
94.1
94.1
92.8
2
CJ Stroud
Ohio St.
QB
2023
89.4
86.9
85.5
87.3
88.4
85.9
78.5
79.7
88.3
3
Stetson Bennett
Georgia
QB
2023
86.2
71.4
91.7
90.2
85.2
82.0
87.4
80.8
85.2
4
Bryce Young
Alabama
QB
2023
84.6
80.5
86.2
78.7
83.7
85.8
85.2
76.9
84.9
5
Dorian Thompson-Robinson
UCLA
QB
2023
87.1
68.5
87.7
77.5
87.4
92.0
78.8
85.7
83.1
6
Aidan OConnell
Purdue
QB
2023
77.7
82.1
77.2
70.4
89.5
81.5
69.8
69.5
80.9
7
Max Duggan
TCU
QB
2023
83.0
63.9
87.3
81.6
75.3
86.2
85.0
79.7
79.8
8
Jake Haener
Fresno St.
QB
2023
78.2
77.4
79.8
73.8
81.3
80.4
76.4
63.8
79.6
9
Malik Cunningham
Louisville
QB
2023
73.9
52.5
90.7
81.9
80.4
87.8
84.4
85.5
78.8
10
Adrian Martinez
Kansas St.
QB
2023
73.3
63.3
80.4
74.2
80.9
84.3
81.8
85.1
78.3
11
Jaren Hall
BYU
QB
2023
84.2
67.9
82.1
77.4
78.9
80.4
78.5
76.3
78.0
12
Clayton Tune
Houston
QB
2023
79.4
74.9
83.6
71.3
78.5
86.5
63.4
71.4
76.9
13
Tyson Bagent
Sheperd
QB
2023
73.5
83.3
78.0
70.4
81.5
83.1
54.4
60.3
76.9
14
Holton Ahlers
East Carolina
QB
2023
70.4
77.4
86.1
68.4
72.3
84.6
74.2
68.3
76.7
15
Kedon Slovis
Pittsburgh
QB
2023
72.4
75.3
84.6
76.5
77.8
73.9
69.8
61.7
76.2
16
Lindsey Scott
Incarnate Word
QB
2023
77.2
75.3
73.0
75.0
76.5
75.4
66.6
73.8
75.2
17
Spencer Sanders
Oklahoma St.
QB
2023
68.4
70.0
87.1
70.5
73.3
84.0
69.8
77.9
74.9
18
Sean Clifford
Penn State
QB
2023
74.9
61.1
89.7
71.4
71.8
82.4
83.1
70.7
74.8
19
Tanner Mordecai
SMU
QB
2023
74.3
69.7
76.3
69.8
79.7
75.6
71.2
65.8
74.4
20
Jarret Doege
Troy
QB
2023
74.4
57.2
78.9
68.3
86.2
77.4
75.3
53.4
74.1
21
Payton Thorne
Michigan St.
QB
2023
71.4
70.4
81.8
70.1
73.9
78.1
69.6
68.3
73.6
22
Tanner McKee
Stanford
QB
2023
67.5
73.0
77.3
66.6
75.8
71.3
76.6
64.0
73.4
23
Will Levis
Kentucky
QB
2023
76.5
53.1
80.7
73.7
81.6
77.0
72.2
67.1
72.6
24
Tim DeMorat
Fordham
QB
2023
76.3
73.9
80.3
71.4
66.8
81.7
62.5
56.8
72.6
25
Jack Plummer
California
QB
2023
65.6
70.8
73.3
59.0
75.1
73.1
76.6
59.9
71.5
26
Tanner Morgan
Minnesota
QB
2023
72.7
46.1
91.0
80.9
73.0
70.9
78.7
58.5
70.4
27
Tyler Shough
Texas Tech
QB
2023
73.0
57.3
76.0
72.4
73.9
71.0
72.5
66.7
70.0
28
Charlie Brewer
Liberty
QB
2023
63.2
58.8
74.4
58.5
73.3
80.4
77.4
64.4
70.0
29
Brennan Armstrong
Virginia
QB
2023
63.9
72.6
83.5
70.0
61.2
78.2
63.3
69.1
69.9
30
Chris Reynolds
Charlotte
QB
2023
68.1
57.9
85.3
70.0
70.2
80.5
65.3
56.8
69.7
31
Tommy Devito
Illinois
QB
2023
70.0
47.5
75.4
64.0
77.7
71.2
88.1
62.2
69.5
32
James Blackman
Arkansas St.
QB
2023
65.7
56.0
82.8
66.3
71.7
68.9
78.3
53.8
68.2
33
Anthony Richardson
Florida
QB
2023
69.1
52.7
78.9
69.7
65.5
73.2
74.0
73.0
67.1
34
Phil Jurkovec
Boston College
QB
2023
64.2
54.7
78.3
68.0
66.3
70.6
73.8
62.6
66.8
35
Hank Bachmeier
Boise St.
QB
2023
66.8
62.3
77.3
63.7
64.8
70.8
71.6
56.0
66.8
36
Cade McNamara
Michigan
QB
2023
71.6
49.2
74.9
70.0
71.7
63.2
80.3
59.5
66.6
37
Jack Abraham
Missouri
QB
2023
65.1
58.5
72.0
67.3
76.6
66.2
61.0
54.8
66.6
38
Tristan Gebbia
Oregon St.
QB
2023
66.2
55.3
65.7
63.1
75.6
62.1
74.2
62.2
66.0
39
Alan Bowman
Michigan
QB
2023
64.1
58.5
66.0
60.6
74.6
65.5
69.2
55.6
65.8
40
Ben Bryant
Eastern Michigan
QB
2023
69.9
56.3
74.9
65.1
69.8
63.1
75.5
52.5
65.8
41
John Rhys Plumlee
Central Florida
QB
2023
64.7
45.6
69.2
62.4
73.9
66.3
82.2
71.8
65.6
42
Henry Colombi
Marshall
QB
2023
65.8
42.7
63.6
60.2
85.6
59.3
80.0
57.2
65.3
43
Parker McNeil
Louisiana Tech
QB
2023
68.1
63.3
69.5
67.4
60.1
68.7
65.3
58.9
65.0
44
Davis Brin
Tulsa
QB
2023
64.7
62.7
80.2
68.7
59.4
71.4
61.2
56.4
65.0
45
Darren Grainger
Georgia St.
QB
2023
71.4
46.0
77.8
68.8
62.5
73.3
73.8
67.7
64.7
46
Gunnar Holmberg
Florida Intl
QB
2023
64.5
52.5
67.7
63.0
77.7
59.8
70.7
59.9
64.7
47
Chase Brice
Appalachian St.
QB
2023
65.9
52.1
82.2
65.6
61.4
69.1
77.0
53.8
64.7
48
Dylan Hopkins
UAB
QB
2023
73.5
40.0
79.8
72.3
70.3
64.4
77.7
55.2
64.5
49
Chase Cunningham
Middle Tennessee
QB
2023
61.2
54.4
66.4
58.3
68.2
69.8
71.6
55.8
64.3
50
Eric Najarian
Maryland
QB
2023
66.3
60.4
68.9
66.8
63.1
62.9
68.3
62.2
64.2
51
NKosi Perry
Florida Atlantic
QB
2023
68.4
49.2
77.9
60.0
55.8
75.6
82.7
55.8
63.8
52
Kyle Vantrease
Georgia Southern
QB
2023
60.0
55.7
75.4
59.9
61.7
68.9
71.8
49.9
63.2
53
Preston Rice
Middle Tennessee
QB
2023
61.5
61.4
61.5
61.0
66.0
62.6
65.1
62.4
63.0
54
Todd Centeio
James Madison
QB
2023
68.1
46.9
80.0
68.4
63.2
60.5
80.9
59.1
63.0
55
Chase Griffin
UCLA
QB
2023
63.3
57.6
64.8
61.7
64.5
64.4
66.6
60.9
62.7
56
Logan Bonner
Utah St.
QB
2023
64.1
53.4
76.9
60.9
59.8
70.1
69.9
49.5
62.4
57
Joe Milton
Tennessee
QB
2023
69.1
39.3
79.5
73.1
60.2
58.7
85.3
60.9
62.0
58
Ryan Glover
Memphis
QB
2023
61.9
58.9
61.3
60.0
62.7
61.3
65.9
60.1
61.2
59
Chance Lovertich
Mississippi St.
QB
2023
67.1
48.3
66.5
63.7
66.1
60.5
70.9
57.9
61.2
60
Jason Bean
Kansas
QB
2023
69.1
41.2
73.8
64.6
60.1
66.4
75.3
60.1
60.6
61
Austin Burton
Purdue
QB
2023
62.1
49.6
57.2
57.6
67.8
58.7
73.6
59.7
60.6
62
Chase Wolf
Wisconsin
QB
2023
57.6
50.6
67.7
59.7
67.2
57.9
69.9
58.3
60.4
63
Jason Brown
Virginia Tech
QB
2023
62.1
49.2
66.1
60.3
62.9
61.4
69.4
56.2
59.9
64
Matt McDonald
Bowling Green
QB
2023
55.1
57.5
68.5
52.6
56.7
64.1
68.5
47.8
59.0
65
Maasai Maynor
Navy
QB
2023
59.6
50.5
67.4
61.4
58.2
57.8
71.8
57.2
58.8
66
Nick Patti
Pittsburgh
QB
2023
61.4
45.6
63.7
59.7
60.6
57.4
77.4
56.2
58.8
67
Rocky Lombardi
Northern Illinois
QB
2023
60.5
47.3
74.9
57.3
55.4
65.6
72.5
54.4
58.5
68
Spencer Petras
Iowa
QB
2023
54.4
41.5
75.5
53.9
56.3
60.8
83.9
47.0
57.5
69
Miles Kendrick
New Mexico
QB
2023
59.1
33.4
66.3
56.5
73.0
56.4
72.7
52.5
57.3
70
John Paddock
Ball St.
QB
2023
53.1
54.6
58.0
48.8
63.6
61.2
61.0
47.8
57.2
71
Haaziq Daniels
Air Force
QB
2023
60.7
28.3
79.5
71.7
41.6
65.5
82.9
61.8
56.0
72
Cade Fortin
Arkansas
QB
2023
54.9
45.9
58.4
53.2
57.4
55.7
76.4
57.5
56.0
73
Jack Tuttle
Indiana
QB
2023
63.0
44.3
58.1
51.2
60.4
56.0
74.0
53.0
55.5
74
Hunter Johnson
Northwestern
QB
2023
50.8
48.9
56.8
48.1
58.6
58.7
68.8
52.1
55.2
75
Braxton Burmeister
San Diego St.
QB
2023
57.7
32.5
69.8
52.9
52.7
59.7
83.1
56.8
53.9
76
Tyhier Tyler
Army
QB
2023
61.4
31.9
63.4
63.3
48.3
59.3
75.7
57.0
53.7
77
Nate Cox
Nevada
QB
2023
45.8
47.0
61.4
47.1
54.6
57.6
69.8
51.7
53.6
78
Noah Vedral
Rutgers
QB
2023
45.4
33.7
67.4
48.8
55.4
57.5
82.2
51.3
53.2
79
Bryce Carpenter
Coastal Carolina
QB
2023
59.0
23.8
59.3
56.7
60.9
52.2
81.4
50.1
52.8
80
Jemel Jones
Army
QB
2023
54.1
36.1
68.4
60.6
44.5
58.3
68.8
51.5
51.8