25 March 2023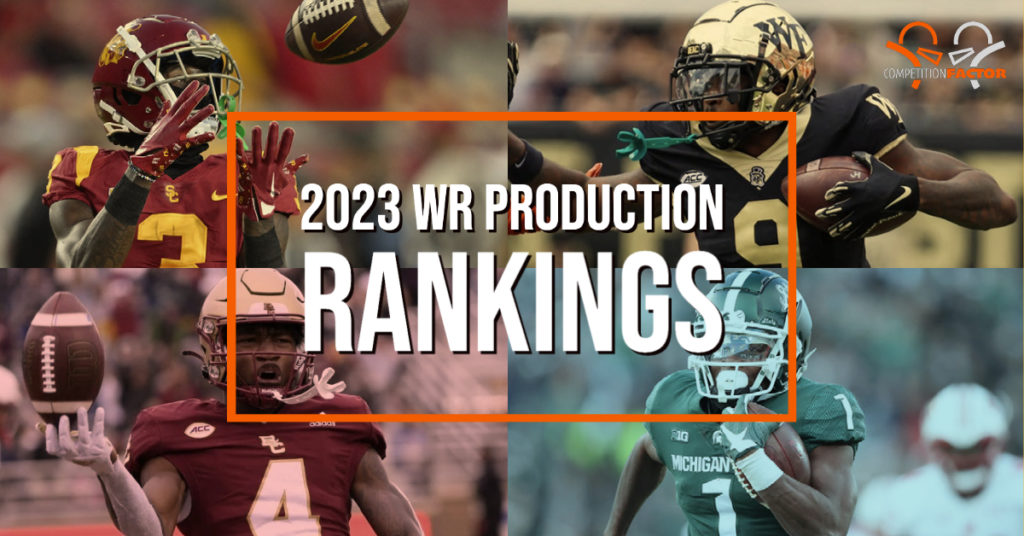 Wide receivers can make a quick impact in the NFL, even in their rookie season. Chris Olave, Garrett Wilson, and George Pickens all had impactful rookie campaigns. Here's a look at our 2023 WR ratings, as always, adjusted for the strength of opponents – the Competition Factor. There are some potential small school draft gems in the group.
One obvious outlier in this group is Ohio State's Jaxon Smith-Njigba. Having only played in 3 games in 2022, while dealing with an injury, JSN's production was certainly hurt. Our analytic relies on consistent production above the NFL average and not being on the field greatly affects that.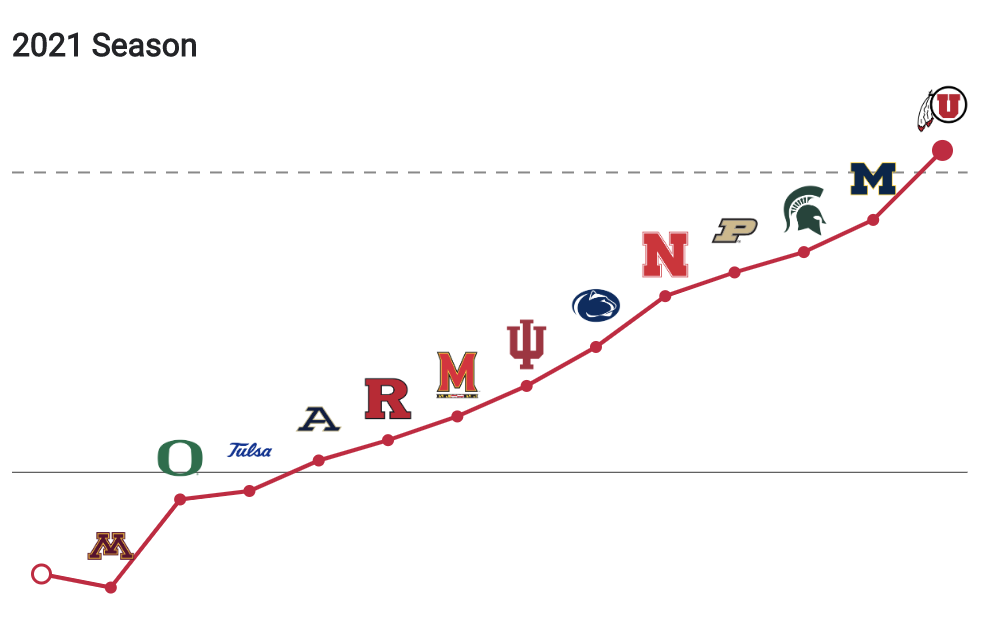 JSN's 2021 season was on an almost vertical trajectory, and this was while sharing the field with our top 2 WRs of that season, Chris Olave and Garrett Wilson. All signs pointed towards a stellar 2022 season for JSN, but it never came. JSN is a great example of not relying on just one evaluation metric when predicting future success. He certainly has the physical tools and silky-smooth route running ability of a future star WR. But only time will tell.
| | | | | | | | | | |
| --- | --- | --- | --- | --- | --- | --- | --- | --- | --- |
| 1 | Jordan Addison | USC | WR | 2023 | 92.3 | 92.9 | 83.2 | 83.7 | 90.4 |
| 2 | AT Perry | Wake Forest | WR | 2023 | 86.7 | 84.7 | 84.5 | 88.6 | 87.9 |
| 3 | Jayden Reed | Michigan St. | WR | 2023 | 92.1 | 84.7 | 83.2 | 79.6 | 87.4 |
| 4 | Zay Flowers | Boston College | WR | 2023 | 88.5 | 86.8 | 82.1 | 82.6 | 87.1 |
| 5 | Nathaniel Dell | Houston | WR | 2023 | 87.4 | 88.1 | 78.9 | 82.6 | 86.1 |
| 6 | Josh Downs | North Carolina | WR | 2023 | 90.3 | 88.9 | 70.0 | 81.5 | 84.7 |
| 7 | Xavier Gipson | SF Austin | WR | 2023 | 85.5 | 84.8 | 81.1 | 78.8 | 84.5 |
| 8 | Xavier Hutchinson | Iowa St. | WR | 2023 | 93.9 | 91.3 | 72.1 | 68.7 | 84.2 |
| 9 | Keylon Stokes | Tulsa | WR | 2023 | 88.8 | 86.6 | 80.6 | 69.4 | 83.9 |
| 10 | Rashee Rice | SMU | WR | 2023 | 90.6 | 85.8 | 70.1 | 78.1 | 83.3 |
| 11 | Zakhari Franklin | UTSA | WR | 2023 | 91.1 | 80.8 | 67.0 | 85.5 | 83.0 |
| 12 | Jalin Hyatt | Tennessee | WR | 2023 | 83.2 | 78.5 | 82.5 | 78.5 | 82.5 |
| 13 | Jared Wayne | Pittsburgh | WR | 2023 | 83.9 | 81.0 | 84.8 | 70.0 | 82.2 |
| 14 | Xavier Smith | Florida A&M | WR | 2023 | 87.8 | 84.0 | 71.4 | 76.1 | 81.8 |
| 15 | Marvin Mims | Oklahoma | WR | 2023 | 78.4 | 78.5 | 88.3 | 75.4 | 81.8 |
| 16 | Quentin Johnston | TCU | WR | 2023 | 82.8 | 79.8 | 82.9 | 73.6 | 81.7 |
| 17 | Cedric Tillman | Tennessee | WR | 2023 | 82.0 | 78.9 | 75.5 | 81.2 | 80.9 |
| 18 | Jadakis Bonds | Hampton | WR | 2023 | 81.4 | 80.3 | 74.4 | 80.5 | 80.6 |
| 19 | CJ Johnson | East Carolina | WR | 2023 | 82.7 | 77.6 | 82.9 | 71.2 | 80.6 |
| 20 | Kayshon Boutte | LSU | WR | 2023 | 86.9 | 79.8 | 72.4 | 75.0 | 80.6 |
| 21 | Jalon Calhoun | Duke | WR | 2023 | 92.4 | 76.8 | 72.1 | 67.3 | 79.8 |
| 22 | Elijah Cooks | San Jose St. | WR | 2023 | 81.8 | 72.9 | 77.7 | 79.9 | 79.6 |
| 23 | Parker Washington | Penn State | WR | 2023 | 85.7 | 77.6 | 78.8 | 67.4 | 79.6 |
| 24 | Dontayvion Wicks | Virginia | WR | 2023 | 76.3 | 78.2 | 84.6 | 72.5 | 79.3 |
| 25 | Ronnie Bell | Michigan | WR | 2023 | 81.9 | 79.8 | 83.5 | 61.6 | 79.0 |
| 26 | Jake Bobo | UCLA | WR | 2023 | 86.1 | 73.5 | 81.8 | 63.5 | 78.7 |
| 27 | Duane Brown | IUP | WR | 2023 | 78.1 | 81.0 | 75.1 | 75.8 | 78.7 |
| 28 | Puka Nacua | BYU | WR | 2023 | 77.9 | 76.3 | 80.5 | 74.5 | 78.7 |
| 29 | Brendan Beaulieu | Bemidji St | WR | 2023 | 76.4 | 79.2 | 77.7 | 76.8 | 78.7 |
| 30 | Mitchell Tinsley | Penn State | WR | 2023 | 84.5 | 73.4 | 73.8 | 75.4 | 78.5 |
| 31 | Charlie Jones | Purdue | WR | 2023 | 80.4 | 76.8 | 73.7 | 75.8 | 78.0 |
| 32 | Bryce FordWheaton | West Virginia | WR | 2023 | 84.0 | 75.1 | 74.7 | 70.7 | 78.0 |
| 33 | Michael Wilson | Stanford | WR | 2023 | 84.8 | 76.8 | 72.3 | 70.0 | 77.9 |
| 34 | Jaray Jenkins | LSU | WR | 2023 | 75.1 | 68.8 | 86.3 | 75.2 | 77.7 |
| 35 | Taylor Grimes | Incarnate Word | WR | 2023 | 80.6 | 77.6 | 68.6 | 79.9 | 77.7 |
| 36 | Antoine Green | North Carolina | WR | 2023 | 72.2 | 73.8 | 85.1 | 75.0 | 77.5 |
| 37 | Jason Brownlee | Southern Miss | WR | 2023 | 77.0 | 72.7 | 79.1 | 75.2 | 77.2 |
| 38 | Darion Charin | Incarnate Word | WR | 2023 | 80.4 | 72.6 | 71.3 | 79.2 | 77.1 |
| 39 | Ainias Smith | Texas A&M | WR | 2023 | 84.2 | 67.4 | 73.1 | 74.9 | 76.7 |
| 40 | JC Santana | Tulsa | WR | 2023 | 80.0 | 73.0 | 79.5 | 66.5 | 76.6 |
| 41 | Shaq Davis | South Carolina St. | WR | 2023 | 69.6 | 74.7 | 85.3 | 72.7 | 76.4 |
| 42 | Matt Landers | Arkansas | WR | 2023 | 72.1 | 71.3 | 85.9 | 71.6 | 76.4 |
| 43 | Jalen Cropper | Fresno St. | WR | 2023 | 87.7 | 78.4 | 64.9 | 66.7 | 76.4 |
| 44 | Elijah Higgins | Stanford | WR | 2023 | 86.1 | 76.4 | 68.8 | 66.0 | 76.4 |
| 45 | Grant Dubose | Charlotte | WR | 2023 | 79.8 | 78.4 | 72.3 | 69.1 | 76.4 |
| 46 | Tyler Hudson | Louisville | WR | 2023 | 78.6 | 79.7 | 77.2 | 62.7 | 76.3 |
| 47 | Jonathan Mingo | Ole Miss | WR | 2023 | 79.3 | 71.6 | 76.9 | 70.5 | 76.1 |
| 48 | Keytaon Thompson | Virginia | WR | 2023 | 82.8 | 81.0 | 71.7 | 61.3 | 76.1 |
| 49 | Malik Heath | Ole Miss | WR | 2023 | 82.1 | 73.7 | 71.0 | 71.1 | 76.1 |
| 50 | Taj Harris | Rutgers | WR | 2023 | 82.0 | 75.3 | 72.7 | 66.7 | 75.9 |
| 51 | Levy Hamer | UW-Stout | WR | 2023 | 81.5 | 77.6 | 65.6 | 73.8 | 75.9 |
| 52 | Fotis Kokosioulis | Fordham | WR | 2023 | 82.2 | 77.1 | 65.0 | 73.9 | 75.9 |
| 53 | Daewood Davis | Western Kentucky | WR | 2023 | 77.4 | 73.0 | 76.4 | 71.1 | 75.8 |
| 54 | Jaxon Smith-Njigba | Ohio St. | WR | 2023 | 78.1 | 75.9 | 72.8 | 71.2 | 75.8 |
| 55 | Duece Watts | Tulane | WR | 2023 | 70.4 | 68.7 | 83.6 | 75.4 | 75.3 |
| 56 | Tayvion Robinson | Kentucky | WR | 2023 | 81.6 | 69.7 | 76.0 | 66.0 | 75.2 |
| 57 | Sam Crawford Jr | Rice | WR | 2023 | 81.4 | 71.9 | 73.1 | 65.8 | 74.8 |
| 58 | Joshua Cephus | UTSA | WR | 2023 | 86.4 | 76.1 | 60.4 | 68.3 | 74.5 |
| 59 | Dante Wright | Colorado St. | WR | 2023 | 81.6 | 75.9 | 70.0 | 62.6 | 74.4 |
| 60 | Renard Bell | Washington St. | WR | 2023 | 84.3 | 64.5 | 65.3 | 76.8 | 74.2 |
| 61 | Mac Hippenhammer | Miami (OH) | WR | 2023 | 74.3 | 70.6 | 78.7 | 68.7 | 74.2 |
| 62 | Victor Tucker | Charlotte | WR | 2023 | 86.1 | 71.1 | 63.6 | 67.6 | 73.9 |
| 63 | Rakim Jarrett | Maryland | WR | 2023 | 80.8 | 71.4 | 68.1 | 68.5 | 73.7 |
| 64 | Ricky Pearsall | Florida | WR | 2023 | 71.8 | 64.8 | 86.9 | 65.4 | 73.6 |
| 65 | Quian Williams | Buffalo | WR | 2023 | 83.8 | 70.8 | 69.0 | 63.3 | 73.6 |
| 66 | Jadon Haselwood | Arkansas | WR | 2023 | 83.1 | 66.9 | 73.4 | 63.1 | 73.6 |
| 67 | Isaiah Winstead | East Carolina | WR | 2023 | 81.9 | 74.5 | 69.5 | 61.3 | 73.6 |
| 68 | Chris AutmanBell | Minnesota | WR | 2023 | 74.2 | 63.8 | 81.8 | 68.7 | 73.4 |
| 69 | Brycen Tremayne | Stanford | WR | 2023 | 71.5 | 66.7 | 78.8 | 73.2 | 73.4 |
| 70 | Gunner Romney | BYU | WR | 2023 | 77.1 | 69.5 | 78.4 | 61.1 | 73.2 |
| 71 | Trey Palmer | Nebraska | WR | 2023 | 77.9 | 69.5 | 68.7 | 72.5 | 73.2 |
| 72 | Trea Shropshire | UAB | WR | 2023 | 63.5 | 69.8 | 87.8 | 70.0 | 73.2 |
| 73 | Brad Rozner | Rice | WR | 2023 | 75.8 | 67.9 | 74.4 | 69.4 | 73.1 |
| 74 | Michael Jefferson | Louisiana | WR | 2023 | 70.5 | 71.4 | 76.5 | 70.9 | 73.1 |
| 75 | Theo Wease | Oklahoma | WR | 2023 | 70.5 | 66.1 | 79.9 | 72.0 | 72.9 |
| 76 | Thayer Thomas | NC State | WR | 2023 | 85.9 | 63.8 | 61.9 | 72.7 | 72.8 |
| 77 | Tanner Knue | Eastern Michigan | WR | 2023 | 76.9 | 70.9 | 68.6 | 70.2 | 72.8 |
| 78 | Jaylen Hall | Western Michigan | WR | 2023 | 70.3 | 67.2 | 81.1 | 68.0 | 72.6 |
| 79 | Winston Wright | Florida St. | WR | 2023 | 86.4 | 68.0 | 62.7 | 64.9 | 72.4 |
| 80 | Tyler Scott | Cincinnati | WR | 2023 | 70.1 | 65.9 | 79.9 | 70.7 | 72.4 |
| 81 | Kobay White | Maine | WR | 2023 | 73.5 | 60.4 | 84.5 | 64.5 | 72.3 |
| 82 | TreShaun Harrison | Oregon St. | WR | 2023 | 81.2 | 62.5 | 71.1 | 67.3 | 72.3 |
| 83 | Malik Knowles | Kansas St. | WR | 2023 | 75.7 | 63.7 | 77.4 | 66.0 | 72.1 |
| 84 | Justin Shorter | Florida | WR | 2023 | 74.6 | 62.5 | 81.5 | 62.7 | 72.0 |
| 85 | Taye Barber | TCU | WR | 2023 | 79.1 | 62.5 | 76.2 | 62.4 | 71.8 |
| 86 | Dontay Demus | Maryland | WR | 2023 | 73.2 | 64.5 | 75.8 | 69.6 | 71.8 |
| 87 | Zane Pope | Fresno St. | WR | 2023 | 78.6 | 65.5 | 72.5 | 63.6 | 71.6 |
| 88 | Dallas Dixon | Central Michigan | WR | 2023 | 71.2 | 69.3 | 76.0 | 66.2 | 71.6 |
| 89 | Jacob Copeland | Maryland | WR | 2023 | 71.7 | 62.1 | 83.9 | 62.7 | 71.5 |
| 90 | Malachi Carter | Georgia Tech | WR | 2023 | 70.5 | 58.7 | 84.1 | 67.3 | 71.3 |
| 91 | Tyrese Chambers | Florida Intl | WR | 2023 | 74.6 | 68.8 | 68.8 | 69.6 | 71.3 |
| 92 | Sean Ryan | Rutgers | WR | 2023 | 73.7 | 60.3 | 82.8 | 61.6 | 71.2 |
| 93 | DeCorian Clark | UTSA | WR | 2023 | 75.6 | 69.5 | 66.0 | 69.8 | 71.2 |
| 94 | Marcell Barbee | Texas St. | WR | 2023 | 73.8 | 66.1 | 71.5 | 68.5 | 71.0 |
| 95 | Neil Pauu | BYU | WR | 2023 | 77.3 | 60.3 | 70.5 | 67.4 | 70.2 |
| 96 | Ontaria Wilson | Florida St. | WR | 2023 | 70.0 | 61.6 | 78.4 | 67.3 | 70.2 |
| 97 | Malik Washington | Northwestern | WR | 2023 | 82.8 | 69.0 | 66.0 | 54.8 | 70.2 |
| 98 | Cornelius Johnson | Michigan | WR | 2023 | 73.0 | 61.4 | 73.5 | 68.3 | 70.1 |
| 99 | Andrei Iosivas | Princeton | WR | 2023 | 73.7 | 67.6 | 71.1 | 63.6 | 70.1 |
| 100 | Kris Thornton | James Madison | WR | 2023 | 71.2 | 70.9 | 71.5 | 63.3 | 70.1 |
| 101 | Chase Cota | Oregon | WR | 2023 | 74.9 | 60.1 | 74.2 | 65.1 | 69.9 |
| 102 | Brian Cobbs | Utah St. | WR | 2023 | 75.7 | 64.5 | 76.1 | 56.8 | 69.9 |
| 103 | Cole Tucker | Northern Illinois | WR | 2023 | 78.0 | 63.8 | 71.8 | 58.9 | 69.7 |
| 104 | Nikko Remigio | Fresno St. | WR | 2023 | 85.3 | 62.9 | 56.5 | 68.0 | 69.7 |
| 105 | Keyshawn Helton | Florida St. | WR | 2023 | 69.8 | 62.5 | 73.5 | 70.5 | 69.7 |
| 106 | Braydon Johnson | Oklahoma St. | WR | 2023 | 71.5 | 65.9 | 75.5 | 61.3 | 69.7 |
| 107 | Phillip Brooks | Kansas St. | WR | 2023 | 77.9 | 60.8 | 70.8 | 63.6 | 69.7 |
| 108 | Shae Wyatt | Tulane | WR | 2023 | 69.7 | 65.5 | 74.0 | 66.9 | 69.7 |
| 109 | Sam Pinckney | Coastal Carolina | WR | 2023 | 76.9 | 68.4 | 66.1 | 60.7 | 69.4 |
| 110 | Terrell Bynum | USC | WR | 2023 | 74.2 | 65.6 | 69.1 | 64.9 | 69.4 |
| 111 | Jalen Wayne | South Alabama | WR | 2023 | 79.8 | 64.0 | 64.3 | 62.4 | 69.1 |
| 112 | Gavin Holmes | Baylor | WR | 2023 | 74.5 | 62.5 | 67.8 | 66.2 | 68.8 |
| 113 | Ryan OKeefe | Central Florida | WR | 2023 | 84.0 | 68.8 | 52.3 | 64.0 | 68.8 |
| 114 | Javen Banks | Texas St. | WR | 2023 | 67.2 | 62.7 | 72.4 | 70.7 | 68.6 |
| 115 | Isiah Cox | Ohio | WR | 2023 | 69.6 | 60.3 | 76.0 | 63.8 | 68.3 |
| 116 | Sam Wiglusz | Ohio | WR | 2023 | 72.5 | 65.0 | 64.1 | 68.9 | 68.3 |
| 117 | Justin Marshall | Buffalo | WR | 2023 | 69.5 | 59.3 | 78.5 | 60.7 | 68.1 |
| 118 | Carlos Carriere | Central Michigan | WR | 2023 | 72.9 | 59.6 | 71.1 | 65.3 | 68.1 |
| 119 | Jaylen Hall | Western Kentucky | WR | 2023 | 70.9 | 68.7 | 66.0 | 63.5 | 68.0 |
| 120 | Dylan Drummond | Eastern Michigan | WR | 2023 | 82.0 | 61.3 | 60.0 | 61.8 | 67.8 |
| 121 | Jaylon Robinson | Ole Miss | WR | 2023 | 72.1 | 64.8 | 67.6 | 63.6 | 67.8 |
| 122 | Jalen Brooks | South Carolina | WR | 2023 | 73.9 | 62.2 | 71.5 | 58.2 | 67.8 |
| 123 | Austin Williams | Mississippi St. | WR | 2023 | 81.6 | 52.1 | 62.3 | 68.3 | 67.5 |
| 124 | Tarique Milton | Texas | WR | 2023 | 68.2 | 56.9 | 78.9 | 62.0 | 67.5 |
| 125 | Caleb Ducking | Mississippi St. | WR | 2023 | 73.9 | 60.6 | 62.3 | 70.2 | 67.5 |
| 126 | Stefan Cobbs | Boise St. | WR | 2023 | 69.7 | 61.4 | 70.5 | 64.0 | 67.2 |
| 127 | Ramel Keyton | Tennessee | WR | 2023 | 65.6 | 63.2 | 76.1 | 61.5 | 67.2 |
| 128 | Rajae JohnsonSanders | Troy | WR | 2023 | 65.3 | 61.1 | 76.8 | 62.6 | 67.0 |
| 129 | Zion Bowens | Hawaii | WR | 2023 | 66.6 | 63.7 | 70.4 | 65.4 | 66.9 |
| 130 | Joseph Ngata | Clemson | WR | 2023 | 68.0 | 57.4 | 78.4 | 59.5 | 66.7 |
| 131 | Isaiah Hamilton | San Jose St. | WR | 2023 | 70.9 | 60.0 | 69.5 | 62.7 | 66.5 |
| 132 | Kaleb Smith | Virginia Tech | WR | 2023 | 66.8 | 59.5 | 73.8 | 63.8 | 66.5 |
| 133 | Josh Vann | South Carolina | WR | 2023 | 70.2 | 51.6 | 75.0 | 65.4 | 66.4 |
| 134 | Griffin Hebert | Louisiana Tech | WR | 2023 | 68.6 | 56.7 | 72.4 | 65.1 | 66.4 |
| 135 | Isaiah Esdale | Rice | WR | 2023 | 75.5 | 62.4 | 67.0 | 55.1 | 66.4 |
| 136 | Jayson Jackson | Ball St. | WR | 2023 | 77.6 | 61.1 | 65.8 | 54.1 | 66.2 |
| 137 | Nico Ragaini | Iowa | WR | 2023 | 77.1 | 57.5 | 69.1 | 55.0 | 66.2 |
| 138 | Derius Davis | TCU | WR | 2023 | 70.9 | 57.2 | 72.0 | 61.1 | 66.2 |
| 139 | Giovanni Sanders | Arizona St. | WR | 2023 | 70.4 | 63.5 | 67.0 | 60.6 | 66.2 |
| 140 | Slade Bolden | Alabama | WR | 2023 | 74.1 | 55.0 | 67.4 | 63.1 | 65.9 |
| 141 | Dannis Jackson | Ole Miss | WR | 2023 | 62.7 | 60.6 | 75.1 | 64.7 | 65.9 |
| 142 | Chritauskie Dove | Missouri | WR | 2023 | 69.3 | 62.2 | 71.7 | 56.9 | 65.9 |
| 143 | TeVailance Hunt | Arkansas St. | WR | 2023 | 68.9 | 60.6 | 66.3 | 66.4 | 65.9 |
| 144 | YoHeinz Tyler | Ball St. | WR | 2023 | 80.6 | 61.3 | 51.6 | 64.9 | 65.8 |
| 145 | Broc Thompson | Purdue | WR | 2023 | 70.8 | 57.1 | 71.1 | 60.2 | 65.8 |
| 146 | Hassan Beydoun | Eastern Michigan | WR | 2023 | 82.1 | 67.7 | 51.1 | 56.4 | 65.8 |
| 147 | Adonicas Sanders | Temple | WR | 2023 | 73.9 | 59.6 | 65.1 | 59.8 | 65.8 |